Skip to Content
Custom Application Process
Our application process starts with pre-heating your parts to the fusing temperature of the coating to be applied. This drives any contaminants to the surface which are then sandblasted away. This leaves a perfectly clean surface ready to accept one of our many coatings. After coating your parts they are baked which fuses our coatings to your parts.
Once parts have cooled from the oven, they are checked by our quality control team to make sure that they meet both your standards and ours. After passing quality control, parts are packed and shipped per your specifications. The end result is that you get the parts you need to be coated when you need them and with Slipmate's care and expertise.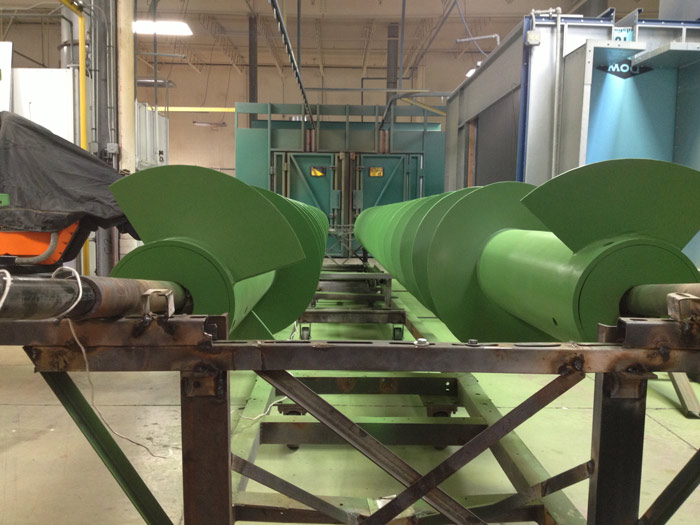 Why Slipmate?
Automated Powder Coating. State Of The Art Robotic Line for High Volume Production Runs, as well as Custom one of a kind Decorative and Fluoropolymer Finishes. Fully Automated Powder Coating Line, Capable of Processing Parts Up To 30 Feet In Length, As Well As Application of Fluoropolymer Coatings on parts up to 30 Feet In Length. RAL colors & custom colors, epoxies & hybrids, polyesters & polyurethanes, vinyls & urethanes, acrylics, specialties & textures, hammertones & wrinkle finish. Limitless Decorative & Fluoropolymer Powder and Spray Coating Applications. Teflon®, Teflon®"S", Tefzel®, Silverstone®, Supra®, FEP, PFA, Xylan®, Excalibur®, Silver Series® Antimicrobial, Quantum®, Emralon®, Xylac®, Xylar®, Xylex®, Dykor®, Quantanium®, Kynar ®, Halar®.
Same Day, 24 and 48 Hour Express Service Available.
Substrates
Slipmate can powder coat metal, aluminum, composites, wood, plastic and ceramic, giving you a choice other than paint.
Our customer's diverse requirements are as numerous as the industries we serve. Our customers hail from the food, manufacturing, defense, aerospace, computer, wireless, service, industrial, medical and automotive arenas.
The Benefits of Powder Coating
Unlimited range of colors, textures, glosses, and finishes
Scratch Resistance
Gloss Retention
Weatherability
Durability
Same Day, 24 and 48 Hours Express Service